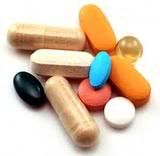 When I say vitamins for weight loss, I am not referring to diet pills or ephedra.  These are all natural vitamins that you can get at your local drug store or super center store.  These are the vitamins I recommend for weight loss.
Vitamin B Complex.  Vitamin B is my favorite and, in my opinion, the best supplement for weight loss.   It contains all 8 of the different variants of Vitamin B.  These B vitamins work together to increase your metabolism, lower your stress level, promote cell growth (not fat cells, healthy cells) and help you maintain healthy muscle tone.  I took Vitamin B complex drops when I was losing weight (and I still do to keep my immune system up).  I recommend using
Liquid Vitamin B Complex 8 oz
Choline. Choline helps boost metabolism of fat cells to burn fat faster. If there isn't a sufficient amount of choline in your body, you will store fat easier and we know that's not good. When taking choline, you will also eat less calories and lose more weight! I suggest using
Choline 600 mg, Sustained Release 90 Tabs
Vitamin C. We know that vitamin C helps your immune system but it does have some weight loss advantages as well. Vitamin C helps turn glucose in the body into energy.  Glucose can be stored as fat but with enough Vitamin C, it turns into energy.  And when you're not sick because of it's immune boosting properties, you can be more active! I recommend eating citrus fruits like oranges, lemons and strawberries.  Or you can take a supplement like
Vitamin C W/ Echinacea 60 Caps
Chromium. Chromium helps to control body fat and cholesterol as well as sugar levels in your blood. There is chromium in egg yolks and you can take a chromium supplement for weight loss.
Chromium Complex 90 Caps
Red Light Therapy can also help tone and firm your skin.
Those are the best weight loss vitamins you can take naturally, safely and effectively.  As always, talk to your doctor first!